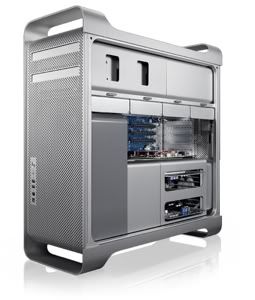 We know it can be tough scraping by with a measly 2.93GHz Xeon processor and 1TB hard drives in your Mac Pro, so you'll no doubt be pleased to know that Apple has finally seen fit to add a bit of extra horsepower to its humble little desktop. That includes a new option for a speedy 3.33GHz Xeon processor, which will add a hefty $1,200 to the base price, and a new a 2TB SATA 3Gb/s 7,200rpm hard drive option (also now available on Apple's Xserve server), which is a comparative bargain at just $350 — though you can, of course, add four of them. Unfortunately, anyone that's thinking about doubling up on those 3.33GHz Xeon processors is still out of luck, as the 8-core rigs still top out at just 2.93Ghz.
Share on Facebook
---
---
Tags: 3.33ghz xeon, 3.33ghzXeon, Apple, apple mac pro, AppleMacPro, mac, mac pro, mac pro upgrade, MacPro, MacProUpgrade, xeon, xeon processor, XeonProcessor
Filed Under
Device Drivers
. Follow to this entry through the
RSS 2.0
feed.