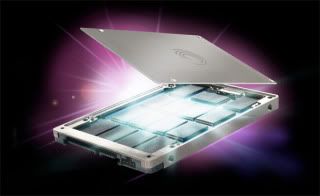 We first heard of Seagate's plans to enter the SSD market way back in mid 2007 and then again in 2008. Here we are in the final days of 2009 and guess what: the first Seagate SSD has been announced. Unfortunately, Seagate's 2.5-inch SATA Pulsar SSD targets the raised-floor crowd locked away in your corporate data center, not you directly. The SLC-based Pulsar tops out at 200GB and claims a peak performance of 30,000 read IOPS and 25,000 write IOPS and a 240MBps sequential read and 200MBps sequential write — damn quick compared to Samsung's enterprise-class SSDs released last year clocking 100MBps sequential reads and 80MBps writes. Hopefully, we'll see Seagate push into the consumer sector once they finish milking corporate IT budgets, or what's left of 'em.
Share on Facebook
---
---
Tags: 200gb, corporate, enterprise, iops, it, pulsar, sata, seagate, slc, ssd
Filed Under
Device Drivers
. Follow to this entry through the
RSS 2.0
feed.