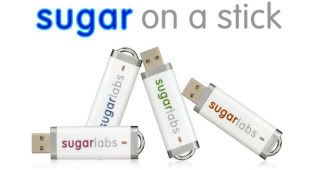 It didn't take long for Sugar on a Stick, the OLPC-free version of the Sugar OS, to go from concept to bootable, and it's only taken a few further months to go from that first version, called "Strawberry," to this twice as fruity "Blueberry" flavor. Updates are evolutionary here, with a core built on Fedora 12 and Sugar .86, adding in Gnash for Flash support as well as a suite of new apps. Most notable is the recently released Open Office 4 Kids, a streamlined version of the suite that probably won't be great for squeezing every character of your resume onto one page but should be good enough to spread a 500(ish) word book report over two. There is a number of other updates included, some demonstrated after the break, all available for your download now. You're just 589MB away from sweet OS simplicity.
Share on Facebook
---
---
Tags: fedora, fedora 12, Fedora12, Olpc, olpc xo, OlpcXo, open office 4 kids, OpenOffice4Kids, sugar, sugar on a stick, sugar os, SugarOnAStick, SugarOs
Filed Under
Device Drivers
. Follow to this entry through the
RSS 2.0
feed.