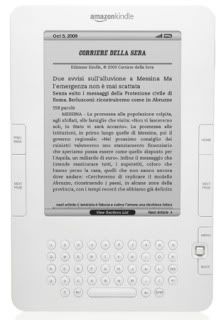 If you've found yourself somewhat irked by the Kindle's lackluster organizing abilities, you clearly aren't alone. A post by The Kindle Team over on Facebook has made clear that Amazon is aware of the shortcoming, and it's currently toiling away on a "better way to organize your growing Kindle libraries." No details are given about the forthcoming solution, but the team does confess that it'll be released as an over-the-air update "in the first half of next year." Huzzah?
Share on Facebook
---
---
Tags: Amazon, amazon kindle, AmazonKindle, e-book, e-book reader, E-bookReader, e-reader, EBook, EReader, firmware, kindle, reader, software, software update, SoftwareUpdate, update
Filed Under
Gadgets-Gizmos
. Follow to this entry through the
RSS 2.0
feed.