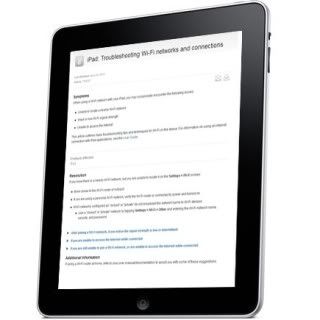 From the results of the poll conducted, it is found that a large number of people are not satisfied with the WiFi connectivity of their iPads. the reason for this dissatisfaction is the irregularity of the WiFi connection. The catch is that Apple had confirmed that such errors in the connection do exist. It is not yet claiming to have found problem in the iPad, instead it is said that the issue is caused because of some third – -party dual – band WiFi routers, and tends to take place if you're the same name for each network or different security settings for each network. Such cross connections are said to be bringing down the efficiency of the working of the WiFi connection. Apple suggests measures so that the WiFi works more effectively. The measures are as simple as just changing the name of the network, and making sure that you use the same security as others. Ofcourse there isn't any other reason as to why other devices work better with the same routers. But as of now this is all we can expect from Apple at this very moment.
Share on Facebook
---
---
Tags: apple ipad, Dual-band WiFi Routers, WiFi connection, WiFi connectivity of iPads
Filed Under
Gadgets-Gizmos
. Follow to this entry through the
RSS 2.0
feed.