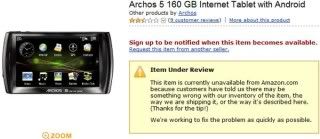 It was only just allowed out to play, but Archos' five-inch, Android-sporting internet tablet has been called back in by its fastidious mother, a role played by Amazon in this case. Only the hard drive-based 160GB model is affected at present, with the 32GB version selling as normal and the half terabyte option out of stock already. Charbax of ArchosFans.com, a man in the know on this subject, has suggested this might have been caused by a firmware update wiping out some pre-installed Android apps, which is now being addressed. His site's forums and Amazon customer reviews, however, paint a different picture: there are consistent complaints about bugs and lock ups — software issues that could well affect the other models in the line — with some going so far as to suggest Archos has used its customers as Beta testers. There doesn't appear to be anything structurally wrong with the device, meaning a robust firmware update could remedy all ills, so now it's just a matter of waiting for Archos to do what it should have done before release.
Read – Amazon product page
Read – Archos Fans forums
Share on Facebook
---
---
Tags: Amazon, Android, archos, archos 5, Archos5, handheld, internet media tablet, internet tablet, InternetMediaTablet, InternetTablet, mid, pmp, Portable Audio, Portable Video, PortableAudio, PortableVideo, tablet, touchscreen
Filed Under
Gadgets-Gizmos
. Follow to this entry through the
RSS 2.0
feed.