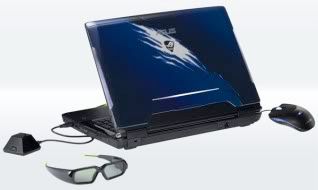 No knock on Acer, who got here first with the Aspire 5738DG, but it sounds like the ASUS G51J 3D has the technology edge in the nascent 3D laptop category. We'll have to see it in action to be sure, but the laptop is using NVIDIA's 3D Vision tech for extensive game compatibility (around 400 games currently work with it), and a 120Hz, 15.6-inch screen paired with some active shutter glasses. We've found the shutter method to be typically a more enjoyable 3D experience than polarized solutions, with no knock on frame rate or resolution. The GeForce GTX 260M card with 1GB of DDR3 memory doesn't hurt either, but that hugegantic USB IR blaster that has to sit on the desk and sync up with the glasses could be a problem for 3D-on-the-go. Of course, the benchmark friendly Core i7-based G51J which this machine is based on (the only real difference is the screen) was never much of one for portability. The laptop will be out soon, with a starting price of $1,700.
Share on Facebook
---
---
Tags: 3d, 3d glasses, 3d vision, 3dGlasses, 3dVision, Asus, breaking news, BreakingNews, g51j, g51j 3d, G51j3d, geforce 3d vision, Geforce3dVision, NVIDIA
Filed Under
Gadgets-Gizmos
,
Gaming
. Follow to this entry through the
RSS 2.0
feed.