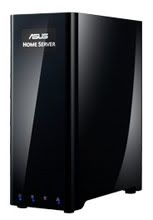 The Windows Home Server train has all but stopped this year, but with CES just around the bend (and Microsoft's software engineers free from the burden of readying Windows 7 for launch), it looks as if the steam is picking up once more. Hot on the heels of its first 3D laptop, ASUS has introduced its TS mini NAS drive for home media junkies. Outfitted with a 1.66GHz Atom N280 processor, 1GB or 2GB of DDR2 RAM, a gigabit Ethernet socket, six USB 2.0 ports, an eSATA connector and a smattering of LED indicators, the drive can be purchased as we speak in 500GB and 2TB editions. Aside from streaming multimedia throughout your home network, the device can also back up ten total PCs automatically and subtly make you dependent on its reliability. Which, as you know so well, is just a precursor for bowing down when the Robot Apocalypse gets underway.
Share on Facebook
---
---
Tags: Asus, asus ts mini, AsusTsMini, atom, atom n280, AtomN280, n280, Nas, Robot Apocalypse, RobotApocalypse, server, Storage, ts mini, TsMini, whs, windows home server, WindowsHomeServer
Filed Under
Gadgets-Gizmos
. Follow to this entry through the
RSS 2.0
feed.