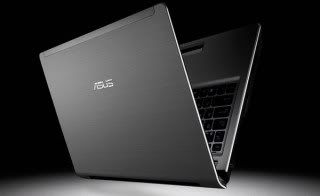 ASUS impressed the world with its lightweight, inexpensive 13.3-inch UL30 over the summer, and just last week impressed us with its switchable-graphics packing bigger cousin, the UL80Vt. Now the 30 is getting the discrete treatment, enabling users to choose from molasses rendering and "all-day computing" battery life or slightly more robust graphics and slightly (about an hour) shorter longevity. The system also packs DDR3 memory, a 1.4GHz Intel Core 2 Duo SU7300 processor (able to be overclocked), and that "stylishly robust" aluminum lid. No word on release or price, but the earlier Vt models didn't come with a massive leap in MSRP, so we'd expect this one not to fall too far from UL30′s $749 street price.
Share on Facebook
---
---
Tags: Asus, asus ul30vt, AsusUl30vt, discrete graphics, DiscreteGraphics, intel core 2 duo, IntelCore2Duo, SU7300, switchable graphics, SwitchableGraphics, ul30, ul30vt, VT
Filed Under
Gadgets-Gizmos
. Follow to this entry through the
RSS 2.0
feed.