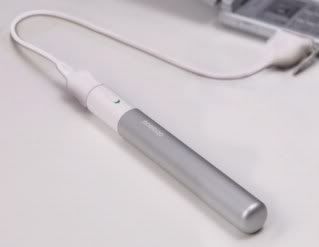 Any time a company both enables our gadget addiction and discourages wanton battery consumption we have to consider it a good thing — and, indeed, Sanyo's wicked-rechargeable Eneloop batteries already have quite a few fans here at Engadget HQ. But what's a busy gadget hound to do on the go, you ask? Try this one on for size: the Eneloop Stick Booster ships with two AAs and can be used to charge them, via any USB source. From that point the device can be used to power your PMP for roughly 90 minutes. How great is that? To be released in Japan on December 1 for an unspecified price, and worldwide whenever the company sees fit. PR after the break.
Share on Facebook
---
---
Tags: aa, Backup, battery, eneloop, Eneloop Stick Booster, EneloopStickBooster, Environment, rechargeable, sanyo, Stick Booster, StickBooster
Filed Under
Gadgets-Gizmos
. Follow to this entry through the
RSS 2.0
feed.