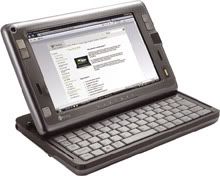 Oh, HTC — never one to dodge the chance to keep us on edge, are you? Half a year after we heard that the self-proclaimed "quietly brilliant" company was working on an Android netbook with T-Mobile, HTC's own CEO Peter Chou confessed during a recent interview that those very wheels were still turning. During the frenzy that was the HD2 launch, he quipped that his company was still "carefully looking into [the netbook] category and how it can be part of that," noting that nothing was official yet due to its desire to really add "unique value" rather than punching out another "me-too" machine. 'Course, if Intel really does revamp its Atom lineup at CES, we'd say this is just about the perfect time for the company to come out swinging — after all, you know you still find yourself dreaming about the Shift from time to time.
Share on Facebook
---
---
Tags: htc, htc netbook, HtcNetbook, netbook, rumor
Filed Under
Gadgets-Gizmos
. Follow to this entry through the
RSS 2.0
feed.