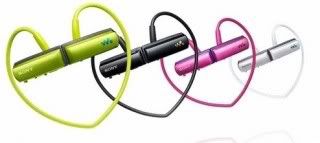 Sony's just unleashed a new water resistant, wearable Walkman — the NWZ-250. This tiny little device comes in both 2GB and 4GB capacity models, and apparently boasts an up to 11 hour battery life. Weighing in at 43 grams, this one's probably perfect for even the most weight sensitive of ears, and it'll be available in black, silver, lime green, and magenta. You'll be able to pick up one (or more) of these later this month for $60. Full press release is on the roll.
Media Alert: Sony Introduces New Wire-Free, Water Resistant Walkman for Fitness Enthusiasts
New Walkman W-Series also features quick charge and simple content transfer
SAN DIEGO, April 12
Media Alert: Sony Announces New Wearable, Water Resistant W-Series Walkman® MP3 Player
WHO:
Ideal for fitness and exercise enthusiasts, the new Sony Walkman W-Series, model NWZ-W252, features a convenient lightweight, wearable and water resistant design.
WHAT:
The new Sony Walkman W Series is designed to improve its user's audio experience during workouts and other forms of exercise. It features a lightweight, water-resistant frame that ensures proper functionality during extended periods of activity inside or outside – even if used in the rain.
Additionally, the Walkman W-Series comes with Content Transfer software that allows users' to move music files and playlists straight from a PC or iTunes™ library (not including DRM files). With 2 GB of maximum capacity, the new Walkman W-Series can hold approximately 470 songs (4 minute length at 128 kbps).
For those on-the-go or users who have simply forgotten to charge their MP3 player before a workout, the new Walkman NWZ-W252 offers a quick charge function. With only three minutes of charge time, the player will receive enough power for up to 90 minutes of use. Full battery life is approximately 11 hours.
WHERE:
The Sony W Series Walkman, model NWZ-W252, will be available this month for about $60 at www.sonystyle.com, Sony Style retail stores and other authorized retailers nationwide.
Share on Facebook
---
---
Tags: NWZ-W250, sony, walkman, walkman NWZ-W250, WalkmanNwz-w250, water resistant, waterproof, WaterResistant
Filed Under
Gadgets-Gizmos
. Follow to this entry through the
RSS 2.0
feed.