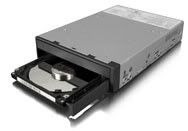 Not interested in piecing together your own hybrid SSD hard drive with something like SilverStone's HDDBOOST kit? Then you might want to consider waiting for Raidon's upcoming HyBrid Disk drive, which promises all the same benefits with none of the hassle (apart from actually installing it in your computer, that is). Complete details on this one are still a bit light, but you will apparently be able to remove the SSD and use it on its own if you like, and then have its contents automatically backed up when you put it back in its enclosure. No word on pricing just yet either, but Raidon says the drives will first be available in an internal, 3.5-inch version in April, with an external version following later in the year.
Share on Facebook
---
---
Tags: HyBrid Disk, hybrid hard drive, hybrid ssd, HybridDisk, HybridHardDrive, HybridSsd, raidon, raidon HyBrid Disk, RaidonHybridDisk, ssd hybrid, SsdHybrid
Filed Under
Gadgets-Gizmos
. Follow to this entry through the
RSS 2.0
feed.