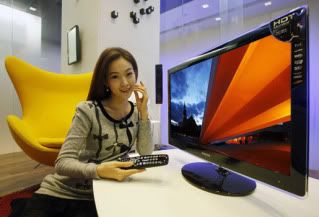 Remember the Samsung P2370HD monitor? Well, this is it at 27 inches. How's that for concision? Oh, you want more — well, Samsung must've expected you to, because it's also added a TV tuner and a HDMI input to its latest Full HD display, to go along with a 5ms response time and a 50,000:1 dynamic contrast ratio. There's also a pair of 3 watt stereo speakers that can simulate 5.1 channel sound — good for emergencies or if you just can't stand speakers cluttering up your desktop. Filling out the goodie bag are Picture In Picture and Picture By Picture modes, which should make good use of the extra real estate on the screen by combining, for example, your desktop with a TV source. The price is set at 549,000 Won (or about $473) for Korea, though global availability looks imminent so don't rush to import it just yet.
Read – Samsung Korea press release
Read – Product page
Share on Facebook
---
---
Tags: 1080p, Display, full hd, FullHd, hd, HDTV, integrated speakers, IntegratedSpeakers, launch, monitor, p2770hd, pbp, picture by picture, picture in picture, PictureByPicture, PictureInPicture, pip, release, samsung, samsung p2770hd, samsung syncmaster, SamsungP2770hd, SamsungSyncmaster, screen, syncmaster, television, tv, tv tuner, TvTuner
Filed Under
Gadgets-Gizmos
. Follow to this entry through the
RSS 2.0
feed.