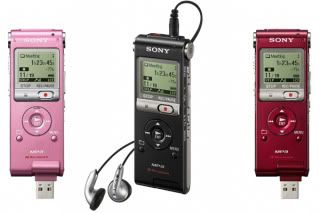 You really don't know how many voice recorders there are out there until you actually look. Sony's UX line of dictation takers / mp3 players has just undergone a gentle revamp with a freshened up control scheme and a bump in integrated storage. The new base model, UX200, will come with 2GB of flash memory, while the 4GB UX300 and 300F (both capable of more than 1,000 hours of recording) are differentiated only by the FM radio availalble in the latter. All models record in stereo mp3 format with added noise cancellation built in, while playback can be done at 21 different speed steps, allowing you to keep track of all the Scatman John wannabes out there. Battery life is rated at up to 15 hours for continuous recording, or north of 80 for continuous playback. Expect to see these showing up, in all their classy color options, in Europe early next month, and check past the break for the full PR.
Share on Facebook
---
---
Tags: dap, europe, fm, fm radio, fm tuner, FmRadio, FmTuner, icd-ux, icd-ux200, icd-ux300, icd-ux300f, launch, mp3, mp3 player, Mp3Player, pr, recorder, sony, Sony Europe, sony icd-ux, SonyEurope, SonyIcd-ux, ux series, UxSeries, Voice Recorder, VoiceRecorder
Filed Under
Device Drivers
,
Gadgets-Gizmos
. Follow to this entry through the
RSS 2.0
feed.