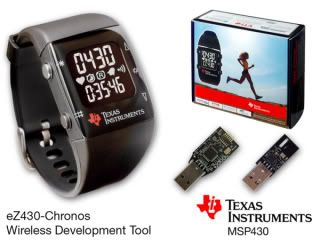 If there's one thing wireless networking developers have been clamoring for, it's the ability to take their reference platform mobile. Extremely mobile. TI's apparently heard this cry, as it's just introduced the eZ430-Chronos, a fully-capable wireless dev platform contained entirely within a sports watch. Yeah, it's just about the geekiest thing we've ever seen, and at $49 it's even kind of a steal — especially since it doubles as a heart monitor out of the box. Looks like we've got a new super-nerd stocking-stuffer of choice.
Share on Facebook
---
---
Tags: chronos, development platform, DevelopmentPlatform, ex430 chronos, Ex430Chronos, ez-430chronos, heart monitor, heart rate monitor, HeartMonitor, HeartRateMonitor, sports watch, SportsWatch, texas instruments, TexasInstruments, ti, watch
Filed Under
Gadgets-Gizmos
. Follow to this entry through the
RSS 2.0
feed.