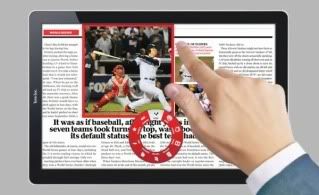 You know that Condé Nast tablet / digital magazine demo we saw recently (non-ironically paging through a copy of Wired)? Well now Time Inc. has gotten in on the same game, showing off its version of a digimag running a touch-friendly issue of Sports Illustrated. The company not only buzzed everyone with the charming walkthough video — a floating hand paging through SI on a sleek, black tablet (embedded after the break) — but also had a live, functioning variation of the product up and running on a touchscreen HP laptop. The gist of the project seems to be that the publisher will be able to offer this digitized version of its magazines in some sort of agnostic format, one that would be accessible to PCs and phantom Apple tablets alike. Peter Kafka over at All Things D says that he had a chance to play with the demo and it was, "quite a bit of fun." While it's clear that both Time and Condé Nast are taking parallel routes to online publishing (the former is purely in concept mode, the latter is working with Adobe on digital versions of its titles as we speak), one thing is painfully clear: both companies have shockingly similar ideas about what the future of magazine publishing looks like. We hope Apple has been informed.
Share on Facebook
---
---
Tags: apple tablet, AppleTablet, conde nast, CondeNast, demo, gestures, prototype, tablet, time, time inc., time warner, TimeInc., TimeWarner, touchscreen
Filed Under
Gadgets-Gizmos
. Follow to this entry through the
RSS 2.0
feed.