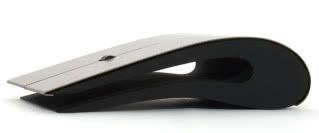 No matter how bad the global economy gets, you can always rely on there being a select few people with (a lot) more money than sense. Exclusively for them, Dutch outfit Intelligent Design has put together this handcrafted Bluetooth laser mouse, which boasts a neodymium scroll wheel, high quality plastic resin and a grade 1 titanium body. We didn't know you could handcraft titanium and we challenge anyone to explain what neodymium has to do with good input ergonomics, but then maybe that just shows how little we know about luxurious items like this. So, if you have $1,200 (or €800 in Old World money) to spare, why not add this unnamed mouse to your shopping list, just under the Mnemosyne USB drive?
Share on Facebook
---
---
Tags: Bluetooth, expensive, input device, InputDevice, laser, laser mouse, LaserMouse, luxurious, luxury, mouse, neodymium, Peripherals, rich, titanium
Filed Under
Gadgets-Gizmos
. Follow to this entry through the
RSS 2.0
feed.