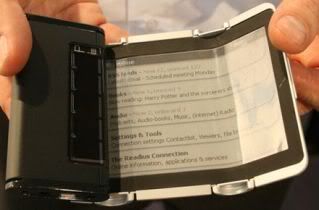 We've had a soft spot for Polymer Vision in the fetid hollows of that place you call a heart ever since we pressed flesh to its Readius back in February 2008. Unfortunately, we had to let go of any hope for the bendy e-reader to ever hit the market after delays turned into bankruptcy turned into cries of noooo! the world over. Now coddled in the corporate arms of Wistron we hear from Brian Chong, head of Wistron's product planning, that a 5-to-6 inch device with a pull-out flexible e-paper display of similar design to the Readius will launch in 2010. By similar design we hope they've included Bluetooth, dual-band HSDPA, tri-band GSM / EDGE, microSD expansion and SMS capabilities of the original.
Share on Facebook
---
---
Tags: brian chong, BrianChong, e-reader, EInk, EReader, polymer vision, PolymerVision, readius, wistron
Filed Under
Gadgets-Gizmos
. Follow to this entry through the
RSS 2.0
feed.