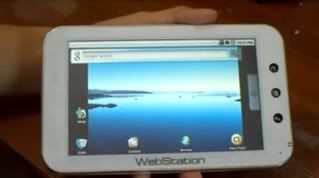 The CrunchPad may or may not have stumbled, but competitors seem to be swooping in for the kill regardless. The latest is Camangi with its WebStation, a 7-inch, Android 1.5-powered tablet said to be shipping in just a few weeks. Detailed specs have still not been made official, but the glass touchscreen is 800 x 480, WiFi 802.11b/g, and there's GPS on tap if you want to take this out into the real world. We found two demonstration videos, both embedded after the break for your viewing pleasure, the first a simple walkthrough while the second shows it struggling to render the Avatar trailer — something James Cameron is surely hoping won't be a problem on the final device. Retail price is said to be $399 but the site indicates the first 100 purchasers will get "early bird pricing," whatever that amounts to. Might as well sign up and see. What's another bit of spam these days?
Share on Facebook
---
---
Tags: 7-inch, Android, android 1.5, Android1.5, camangi, camangi webstation, CamangiWebstation, cupcake, tablet, webstation
Filed Under
Gaming
,
Mobile Phone
,
Web Hosting Review
. Follow to this entry through the
RSS 2.0
feed.