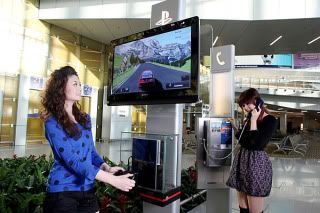 It's not fair, is it? You'd think Hong Kong's award-winning airport already has enough to keep travelers jolly (there's free WiFi too), but as the old Chinese proverb goes: "Those who don't move forward will only go backward." As of this week, Hong Kong International Airport has 14 free-of-charge PlayStation 3 game poles that are preloaded with Final Fantasy XIII, Avatar, Uncharted 2, Assassin's Creed 2, etc. Hey Sony, too bad you didn't start from the top of the "world's worst airports" list — passengers at London Heathrow would've been forever in your debt.
Share on Facebook
---
---
Tags: airport, hkia, hong kong, hong kong airport, hong kong internation airport, hongkong, HongKongAirport, HongKongInternationAirport, playstation, Playstation 3, Playstation3, ps3, sce, sony, Sony Computer Entertainment, SonyComputerEntertainment
Filed Under
Gaming
. Follow to this entry through the
RSS 2.0
feed.