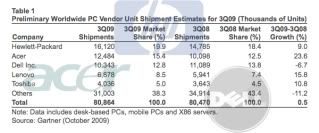 As if on cue, here's some new data research firm Gartner lending credence to Lanci's boasting. Looks like Acer has leapfrogged over Dell for the number two spot in global market share for the third quarter of 2009, from 12.5 to 15.4 percent of the Big Pie Chart™. Meanwhile Dell is just below at 12.8 percent, and HP is sitting happily atop with a 19.9 percent ownership.
Update: Let us adjust our glasses a bit. According to the charts, Acer is number two in worldwide PC sales, not in US as this previously reported. Stateside, the company is sitting at number three at 13.9 percent, behind HP (25.7 percent) and Dell (26.2 percent). Apologies for the confusion, the person responsible for eyesight has been subsequently sacked, the person responsible for the sacking has been sacked, etc.
Share on Facebook
---
---
Tags: Acer, Business, dell, dell inc, DellInc, desktop, Desktops, gartner, hewlett packard, HewlettPackard, hewlitt packard, HewlittPackard, hp, laptop, Laptops, lenovo, pc, sales, toshiba
Filed Under
Hardware
. Follow to this entry through the
RSS 2.0
feed.