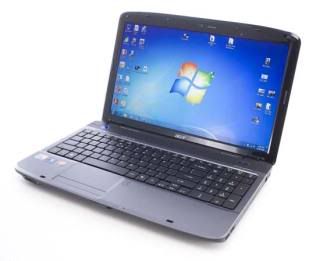 Acer's done plenty of boasting about its very first 3D laptop, the Aspire 5738DG, but it's just now gotten completely official, and let a few lucky folks get their hands on it. As you might expect, PC Magazine found the 3D part of the laptop to be something of a gimmick, although not entirely unimpressive. More specifically, while attempts at gaming or viewing standard video converted to 3D were apparently quite a letdown, the included TriDef software did reportedly do a pretty impressive job with photos, and the special 3D layer on top of the screen thankfully doesn't cause any nasty side effects when you're not using the 3D glasses. Otherwise, the laptop is expectedly just your basic mid-range Aspire: inexpensive (just $779 even with the 3D glasses), and capable enough for most folks not looking for a screaming gaming rig (2.2GHz Core 2 Duo, 4GB of RAM, and ATI Radeon HD 4570 graphics).
Read – SlashGear, "Acer gets official with Aspire 5738DG 3D notebook"
Read – PC Magazine, "Hands On with Acer's 3D Laptop"
Share on Facebook
---
---
Tags: 3d, 3d glasses, 3d goggles, 3d laptop, 3dGlasses, 3dGoggles, 3dLaptop, 5738dg, Acer, acer aspire, acer aspire 5738dg, AcerAspire, AcerAspire5738dg, aspire, aspire 5738dg, Aspire5738dg
Filed Under
Hardware
. Follow to this entry through the
RSS 2.0
feed.