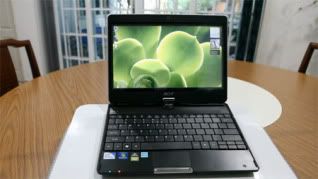 Acer's Aspire 1820PTZ convertible tablet may not be making its London debut until next month, but evidently said machine is alive and well (and shipping, to boot) over in Singapore. One particular enthusiast managed to procure one of the twistable rigs, and as a favor to anyone who appreciates freedom, Kris Kringle and In-N-Out double-doubles, he decided to unbox it, snap a few shots, throw up a video and even toss out a respectable list of impressions. We're told that Acer crammed just about every piece of bloatware known to mankind onto this thing, and the owner didn't seem particularly thrilled with the keyboard nor the overall multitouch experience. That said, performance was found to be "snappy enough for general use," and the casing itself was satisfactorily solid.
Share on Facebook
---
---
Tags: Acer, acer aspire 1820, acer aspire 1820pt, acer aspire 1820ptz, AcerAspire1820, AcerAspire1820pt, AcerAspire1820ptz, aspire, aspire 1820, aspire 1820pt, aspire 1820ptz, Aspire1820, Aspire1820pt, Aspire1820ptz, convertible, convertible tablet, ConvertibleTablet, in the wild, InTheWild, pics, pictures, timeline
Filed Under
Hardware
. Follow to this entry through the
RSS 2.0
feed.