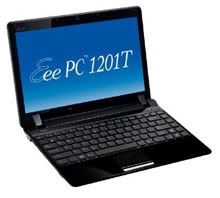 Tired of waiting for the Eee PC 1201T to ship? Impatient, aren't we? We've been wondering about the status of this here netbook since it came to light last November, and now it looks like the Germans are about to get a real, live taste of AMD's Congo platform. Boasting a 1.6GHz MV40 CPU, the same look and feel that we've grown accustomed to on Eee PC netbooks, 2GB of RAM, a 250GB hard drive, ATI HD3200 GPU and Windows 7 on the OS front, this is certainly one of the more unique machines in the sea of Atomized "me-toos." The pain? €399 ($560), and the first batch is expected to ship out tomorrow. Here's hoping the price dips somewhat when it makes its Stateside debut.
Share on Facebook
---
---
Tags: 1201t, Amazon, amd, amd congo, AmdCongo, Asus, asus eee pc, asus eee pc 1201t, AsusEeePc, AsusEeePc1201t, Availability, available, congo, eee pc, eee pc 1201t, EeePc, EeePc1201t, germany, Ion, mv40, netbook, now shipping, NowShipping, NVIDIA, nvidia ion, NvidiaIon, ship, ships
Filed Under
Hardware
. Follow to this entry through the
RSS 2.0
feed.