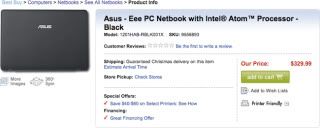 A little later than mid-November, sure, but ASUS has finally unleashed to the US masses its 12.1-inch Eee PC 1201HA. Available at Best Buy for a penny under $330, it's got all the standard affairs: 1.33GHz Intel Atom Z520, 1GB RAM upgradeable to 2GB, 160GB HDD, WiFi, and a touted 6 hour, 38 minute battery life. The catch here is Windows XP — sorry 7 lovers, but if you're feeling particularly adventurous, there's always Chrome OS.
Share on Facebook
---
---
Tags: 1201, 1201 ha, 1201ha, Asus, atom, best buy, BestBuy, ee, eee pc, EeePc, intel atom, IntelAtom, net book, netbook, on sale, OnSale, z520
Filed Under
Gadgets-Gizmos
,
Hardware
. Follow to this entry through the
RSS 2.0
feed.