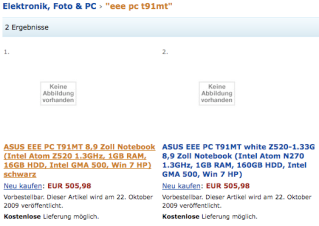 Surprise! Another "new" computer coming out October 22nd alongside Windows 7, or at least rumored to be. This time it's the previously-rumored ASUS Eee PC T91MT, which has wound up as a listing on Amazon Germany. Same processor and 8.9-inch screen size as the T91, but with a 160GB HDD instead of solid-state. Since it's Windows 7, there's now multitouch support, hence the "MT." The color options are black and white and it'll set you back about 506 euros ($754). Oh, you wanted US prices and release dates? Show a little more patience, why don't ya?
Share on Facebook
---
---
Tags: Amazon, amazon german, amazon germany, AmazonGerman, AmazonGermany, Asus, eee, eee pc, EeePc, german, germany, t91, t91 mt, T91Mt, windows 7, Windows7
Filed Under
Hardware
. Follow to this entry through the
RSS 2.0
feed.