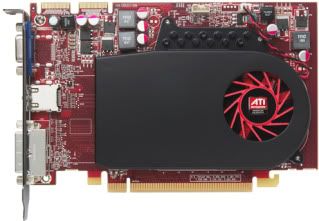 AMD and ATI have got yet another GPU contender under their sleeve, and this one's got quite a one-two punch. The Radeon HD 5670 can boast DirectX 11 and Eyefinity support are for a suggested price less than one Benjamin Franklin. The usual suspects have weighed in on the card, and while "solid value" that outperforms its analogous NVIDIA GeForce GT 240. That's not exactly an A+ grade, but we weren't expecting it to go toe-to-toe to its older brothers costing hundreds of dollars apiece. AnandTech also points out that some DX11-compliant games (e.g. Battleforge, S.T.A.L.K.E.R.) couldn't pull off manageable framerates. One last word of advice, as noted by TweakTown: make sure the model you pick up uses GDDR5 (instead of GDDR3), as it could make a world of difference.
Generation HD Gaming and Multimedia Features to the Mainstream
ATI Radeon™ HD 5670 is the first graphics card with support for Microsoft DirectX® 11 and ATI Eyefinity multi-display technology for under $1001
Sunnyvale, Calif. -1/14/2010
AMD (NYSE: AMD) today introduced the ATI Radeon™ HD 5670 graphics card, the latest addition to the award-winning line-up of the world's first and only graphics products to fully support Microsoft DirectX® 11 gaming and computing, as well as new innovations such as ATI Eyefinity technology. Priced at less than USD $100,1 the ATI Radeon™ HD 5670 graphics card enables a superior HD gaming experience in the latest DirectX® 11 titles, employs ATI Stream technology to boost performance in video playback and productivity applications,2 and helps enable the full Microsoft Windows® 7 experience.
Big performance, small price: The ATI Radeon™ HD 5670 graphics card delivers up to 620 GigaFLOPS of compute power and GDDR5 memory, delivering unprecedented gaming performance for under USD $100 in the latest DirectX® 11 titles such as Codemaster's Colin McRae™: DiRT® 2™, EA Phenomic's BattleForge™ , GSC Game World's S.T.A.L.K.E.R: Call of Pripyat™ and Battlefield: Bad Company™ 2 as well as DirectX® 9, DirectX® 10, DirectX® 10.1 and OpenGL titles. In some of today's most popular games, the ATI Radeon™ HD 5670 graphics processor showed a more than 20 percent performance improvement over the closest competing product in its class.3
Panoramic computing hits the mainstream: The latest in ATI Eyefinity technology enables up to three displays to be used with a single ATI Radeon™ HD 5670 graphics card4, delivering the most immersive gaming experience with a graphics card for under $100.
Accelerate with ATI Stream technology: ATI Stream technology speeds up video transcoding and improves video playback performance with applications such as Adobe Flash, and helps to deliver video enhancements that produce better visual quality with sharper, more vibrant images.2
"AMD recently celebrated the shipment of its two millionth DirectX 11 graphics chip. AMD has already enabled DirectX® 11 support for the majority of the PC market and today's introduction of the ATI Radeon™ HD 5670 graphics card is yet another clear indication of AMD's commitment to address the strong market demand for DirectX 11-capable graphics cards," said Matt Skynner, vice president and general manager, AMD Graphics Group. "Combined with the successful launches of the ATI Radeon™ HD 5970, ATI Radeon™ HD 5800 series and ATI Radeon™ HD 5700 series, AMD has defined the DirectX 11 gaming experience like no other, bringing graphics innovations like ATI Eyefinity technology and ATI Stream technology to millions of consumers worldwide."
"DICE prides itself on delivering the best possible experience to gamers, and ATI Radeon™ graphics cards help us to do that with Battlefield: Bad Company™ 2 through the use of DirectX® 11 and our Frostbite engine," said Johan Andersson. "The fact that AMD has now shipped two million DirectX® 11 graphics processors demonstrates how excited gamers are by the awesome performance and feature set of the latest ATI Radeon™ products."
About AMD
Advanced Micro Devices (NYSE: AMD) is an innovative technology company dedicated to collaborating with customers and technology partners to ignite the next generation of computing and graphics solutions at work, home and play. For more information, visit http://www.amd.com.
AMD, the AMD Arrow logo, ATI, the ATI logo, Radeon, and combinations thereof, are trademarks of Advanced Micro Devices, Inc. Other names are for informational purposes only and may be trademarks of their respective owners.
Share on Facebook
---
---
Tags: 5670, amd, ati, directx, directx 11, Directx11, eye finity, eyefinity, hd, hd 5670, Hd5670, radeon, radeon 5670, radeon hd, radeon hd 5670, Radeon5670, RadeonHd, RadeonHd5670
Filed Under
Gadgets-Gizmos
,
Hardware
. Follow to this entry through the
RSS 2.0
feed.