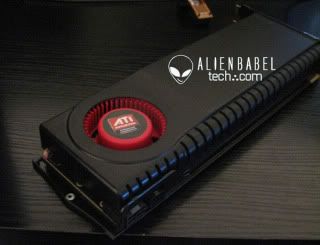 And now… fighting out of the red corner, weighing in with two Evergreen GPUs, and wearing black trunks and red trim, it's the Radeon HD 5970. ATI's latest challenger for the title of undisputed graphics champion has been snared in the wild, and its photo shoot reveals a suitably oversized beast. Measuring in at 13.5 inches and requiring both an eight- and six-pin power connector, the pre-production sample can fit inside only the roomiest and best-powered rigs around. It's named somewhat confusingly, with AMD dropping its X2 nomenclature for dual GPU setups, but it features two HD 5870 chips running in onboard Crossfire on the same PCB, and foreshadows a HD 5950, which will combine a pair of the more affordable HD 5850s. Performance figures available earlier have been pulled, at the behest of AMD, but we've got plenty of eye candy to admire, and there's also no price tag in sight to spoil our daydreaming pleasure.
Share on Facebook
---
---
Tags: 5970, amd, ati, ati radeon, AtiRadeon, crossfire, dual gpu, DualGpu, graphics, graphics card, GraphicsCard, hd 5970, Hd5970, leak, onboard crossfire, OnboardCrossfire, radeon, radeon hd, radeon hd 5970, RadeonHd, RadeonHd5970
Filed Under
Hardware
. Follow to this entry through the
RSS 2.0
feed.