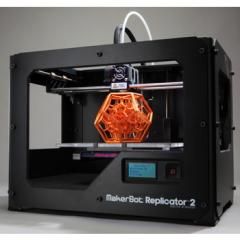 Computers Unlimited has announced a partnership with 3D printing specialist MakerBot.
Under the distribution and sales deal, Computers Unlimited will sell and support MakerBot's range of Replicator 3D printers and Digitizer desktop 3D scanners, as well as the filaments used to produce 3D-printed objects.
"MakerBot is excited about our distribution partnership with Computers Unlimited to help us further expand the MakerBot 3D Ecosystem footprint in the UK," said Mark Schulze, VP of sales for MakerBot.
"Building on our existing reseller network's success, Computers Unlimited is expected to help accelerate MakerBot's penetration with engineering, architectural, educational and consumer end-users."
"When speaking with numerous distribution partners in the UK, we were most impressed with CU's dedication for the 3D printing space, passion for customer service and vision for where MakerBot should be in the near future."
"The UK has always been a very important market for us," added Bre Pettis, CEO of MakerBot.
"To have CU on-board as our lead international distribution partner can help further our expansion into Europe and provide us with a trusted partner in the industry that is known as a leader in technology products. We are excited to see where this partnership takes us."
"Computers Unlimited is delighted to partner with MakerBot on distribution," commented James Sanson, CEO of CU.
"We have been watching MakerBot's status as a leader in the rapidly developing desktop 3D printing industry for a while and are thrilled to be part of the team to bring 3D printing to more industries, creative individuals, and educational users in the UK."
"MakerBot's entire 3D printing ecosystem provides not just 3D printers, but a broad range of leading edge technology and services that includes content and tools to make the 3D printing process easier for their customers."
src=pcr-online
Share on Facebook
---
---
Tags: 3D Printing, computers unlimited, Computers Unlimited Partnership, deal, Distribution, Makerbot, Makerbot Partnership in UK, partnership
Filed Under
Business
,
Hardware
,
World News
. Follow to this entry through the
RSS 2.0
feed.