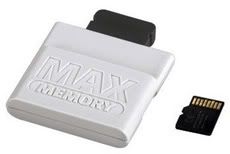 Seems like we just can't go a week without some corporate power plays or mudslinging making our pages. Back in October, Datel promised it would "remedy" the situation created by Microsoft's forthcoming (now present) Dashboard update locking out its higher capacity memory modules. The accessory company was the first (and only) third-party supplier of memory cards for the Xbox 360, but it seems that MS took a dislike to the MicroSD-expandable Max Memory units and has since taken the unusual step of downgrading the console to being able to read only chips up to 512MB, essentially taking Datel's 2GB+ wares out of commission. Yeah, classy. Datel's retaliation is in the finest Anglo-Saxon legal tradition, namely to assert antitrust concerns and to claim its right to act as a competitor to Microsoft in the memory market for Redmond's own console. It all sounds rather silly to us too, and could probably have been avoided by a rational compromise, but what's the fun in that?
Share on Facebook
---
---
Tags: 360, Accessories, Antitrust, console, dashboard, dashboard update, DashboardUpdate, datel, Gaming, law, lawsuit, memory, memory card, memory cards, MemoryCard, MemoryCards, microsd, Microsoft, third-party, ThirdParty, xbox, xbox 360, Xbox360
Filed Under
Device Drivers
,
Hardware
. Follow to this entry through the
RSS 2.0
feed.