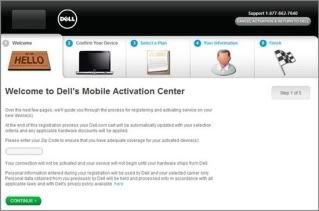 Who knew that getting mobile broadband devices activated was such a lengthy and complicated procedure, perhaps that is not the opinion of most of the Dell customers. These disagreements are so many in number that the company had to come up woth Mobile Activation Centers. The procedure is small and error -  proof. All you need to do is purchase your mobile broadband-packin' notebook or netbook on Dell.com, you'll be prompted to activate the data card and select your data plan (adding to your existing account or setting up a new one). Rebates even get flipped back to your Dell shopping cart.
Share on Facebook
---
---
Tags: 3g, dell, dell mobile activation center, DellMobileActivationCenter, mobile activation center, mobile broadband, MobileActivationCenter, MobileBroadband, netbooks
Filed Under
Hardware
. Follow to this entry through the
RSS 2.0
feed.