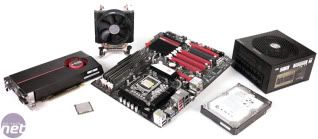 Over the last year, we've been inundated with tech products branded as ECO-this and Green-that. While we've always been interested in energy consumption as an indicator of aspects of technical design and performance, we're far from convinced that you can actually save significant cash by buying a-n-other company's 'power saving' product.
In this article, we're going to be busting some myths about computers and power consumption – both our own assumptions and the superfluous claims made by manufacturers.
We're going to measure the real world differences between actual performance PCs. By measuring the power at the wall socket we have a direct readout of the immediate benefit provided by changing one component to a lower-power alternative, but it's important to combine this with the time it takes to complete a computational task – a CPU that's 1 per cent more power efficient when video encoding but that takes 50 per cent longer than its competitor isn't going to be beneficial. From these two variables (power use and time taken), we can work out the product's efficiency as a factor of power use over time. For example, if a particular product uses 50 per cent more power, but it's also twice as fast (100 per cent) at completing the task at hand, then this means its 33 per cent more efficient.
PUs – AMD
Test Setup
* Gigabyte GA-790FX-UD5 (790FX/SB750, F7 BIOS)
Common Components
* 4GB OCZ DDR3 PC3-15000 / 1,866MHz / Platinum Edition @ SPD: 1,333MHz, CL7
* 650W Seasonic X-Series PSU
* 1TB Seagate Barracuda 7200.12 HDD
* ATI Radeon HD 5770 1GB
* ATI Catalyst 10.1 WHQL
* Windows 7 Home Premium x64
Share on Facebook
---
---
Tags: 650W Seasonic X-Series PSU, ATI Radeon HD 5770 1GB, Energy Efficient Hardware, Test Setup, Windows 7 Home Premium x64
Filed Under
Gadgets-Gizmos
,
Hardware
. Follow to this entry through the
RSS 2.0
feed.