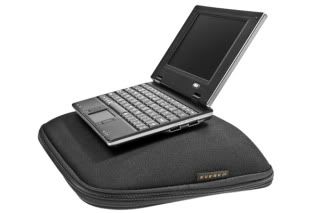 The EVERKI Camber netbook case must have an inferiority complex. Why else, when every other netbook sleeve is designed to take up minimal space, does the Camber sport a large, bulging protrusion from one side? Well, you might say, it's designed to raise your netbook or ultraportable up to a more ergonomic 30 degree angle away from horizontality, but when was the last time you really regretted not owning a CushionSpeaker or a CushDesk? The more useful feature here, for us, is the space that bulge provides for storing your charger and AC plug (which can be horrifically huge in the UK), though whether the $49.99 price is justifiable, we leave up to you.
Share on Facebook
---
---
Tags: bag, Case, ergonomics, everki, lap stand, LapStand, laptop bag, laptop base, laptop case, LaptopBag, LaptopBase, LaptopCase, Laptops, netbook, netbook bag, netbook case, NetbookBag, NetbookCase, netbooks
Filed Under
Hardware
. Follow to this entry through the
RSS 2.0
feed.