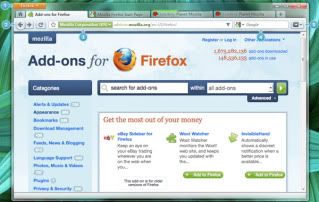 Want a hint as to where Firefox will go next? As a product visual designer at Mozilla, Stephen Horlander is the kind of guy who can make things happen — so when he shares updates and mockups on Firefox 4′s user interface, we tend to pay attention. He outlines five portions of a screenshot teaser that'll get a much cleaner, more streamlined facelift. Our favorite takeaway is the singular app button for menu navigation. Several variations are shown, but if you ask us, we're currently fond of the setup above. As Horlander notes, the design's in constant flux, but what we're seeing is certainly promising.
Share on Facebook
---
---
Tags: browser, fire fox, firefox, firefox 4, Firefox4, horlander, mozilla, Mozilla Firefox, mozilla firefox 4, MozillaFirefox, MozillaFirefox4, Stephen Horlander, StephenHorlander, web, web browser, WebBrowser
Filed Under
Hardware
,
Software
. Follow to this entry through the
RSS 2.0
feed.