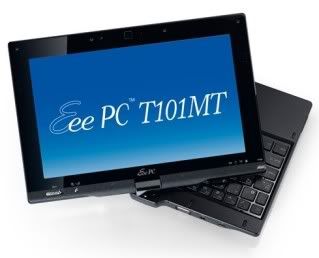 Still hunting for alternatives to the iPad?? ASUS' 10-inch Eee PC T101MT is definitely for those that can't make the call on netbook vs. tablet, and like clockwork the Atom N450-powered netvertible is creeping up on stateside order pages in search of $500 of your hard earned cash. Sadly, for that price you'll only be getting single touch input since its Windows 7 Starter OS lacks multitouch support, but our guess is that slightly more expensive SKUs with Win 7 Premium will start popping up soon. We'd certainly urge you to wait on our full review, but if you're keen enough to put your fingers all over that capacitive screen and chiclet keyboard, then get ready to bore holes into your pockets n get those links.
Share on Facebook
---
---
Tags: Asus, asus eee pc, asus eee pc t101mt, AsusEeePc, AsusEeePcT101mt, convertible, convertible tablet, ConvertibleTablet, eee pc t101mt, EeePcT101mt, intel atom N450, IntelAtomN450, netbook, netbooks, netvertible, shipping, t101, t101h, t101mt, tablet, tablet pc, TabletPc
Filed Under
Hardware
. Follow to this entry through the
RSS 2.0
feed.