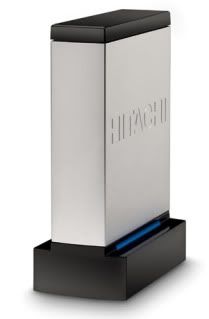 Hitachi GST has been pushing 2TB hard drives for quite some time, but for whatever reason, the outfit's long-standing SimpleDrive line has been held back from enjoying the spoils. Until today, obviously. The outfit has just introduced a 2TB edition of its external SimpleDrive, and it also announced that all of its 3.5-inch retail drives are now available in 2TB capacities. There's also an upgraded Hitachi SimpleTech Pro Drive and Duo Pro Drive (2 x 2TB), with prices for the entire lot checking in at $249.99, $299.99 and $499.99 in order of mention. Oh, and in just case your 250GB drive from 2002 just hit its limit today, you'll be elated to know that each of these are available as we speak.
Share on Facebook
---
---
Tags: 2TB, 2TB SimpleDrive, 2tbSimpledrive, Deskstar 7K2000, Deskstar7k2000, External hard drive, external hdd, ExternalHardDrive, ExternalHdd, hard drive, HardDrive, hdd, hitachi, Hitachi Global Storage Technologies, Hitachi GST, HitachiGlobalStorageTechnologies, HitachiGst, SimpleDrive, SimpleTech, SimpleTech Pro Drive, SimpletechProDrive, Storage
Filed Under
Hardware
. Follow to this entry through the
RSS 2.0
feed.