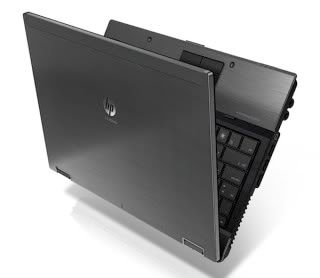 Since the royal unveiling of HP's six new Elitebooks and ProBooks last week, the Elitebook 8440w (w standing for workstation) has been making the review rounds, and receiving overwhelmingly positive feedback from the chaps at Notebook Review, LAPTOP and Computer Shopper. All were impressed by the Core i7-620M and NVIDIA Quadro FX 380M power that's been crammed into the 14-inch chassis, but unsurprisingly that causes some warm underside temperatures. Other than that, the 8440w received high praise for its durable gunmetal-build and "exceedingly" comfortable keyboard, but the touchpad was noted as being too small. Actually, the guys over at Notebook Review even go as far to say that the laptop would be "absolutely perfect" if that pad and its buttons weren't so squished. Now that's quite a bold statement. All in all, the 8440w seems like a solid and very mobile workstation, but hit up the sources if you're dying to know more about the $1,650 rig.
Share on Facebook
---
---
Tags: 8440w, core i7, CoreI7, Elitebook 8440w, Elitebook8440w, hp, hp elitebook, HP Elitebook 8440w, HpElitebook, HpElitebook8440w, intel core i7, IntelCoreI7, laptop, Laptops, mobile workstation, MobileWorkstation, notebook, notebooks, workstation, workstations
Filed Under
Hardware
. Follow to this entry through the
RSS 2.0
feed.