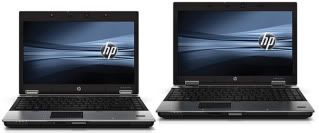 HP promised us a mobile workstation refresh in February, and sure enough, today we are staring down the retail pages for its quartet of upgraded business laptops. The new top of the line EliteBook models come in 14- (8440p/w) and 15.6-inch (8540p/w) varieties, with the w-appended models sporting appropriately beefed up NVIDIA Quadro FX graphics with up to 1GB of dedicated GDDR5. If you want to grab one for under a grand, you'll have to make do with the reasonably powerful Core i5-520M / 2GB DDR3 RAM combo, but we're most excited by the future customization options, which include a low-voltage Core i7-820QM CPU with 8MB of internal cache, up to 16GB of RAM, and up to 256GB in SSD storage. Course, we can't put prices to these spectacular beasts just yet, as HP is still only offering preconfigured rigs, but we think it'll be less than five figures.
Share on Facebook
---
---
Tags: 8440p, 8440w, 8550p, 8550w, core i, core i5, core i7, CoreI, CoreI5, CoreI7, desktop replacement, DesktopReplacement, EliteBook, elitebook 8440p, Elitebook 8440w, elitebook 8550p, elitebook 8550w, Elitebook8440p, Elitebook8440w, Elitebook8550p, Elitebook8550w, elitebooks, hp, hp elitebook, HpElitebook, intel, laptop, Laptops, mobile workstation, MobileWorkstation, NVIDIA, quadro fx, QuadroFx, windows 7, windows xp, Windows7, WindowsXp, workstation
Filed Under
Hardware
. Follow to this entry through the
RSS 2.0
feed.