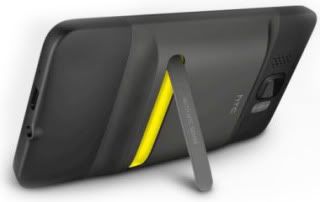 British electronics e-tailer Clove has started listing a new £53 ($86) HD2 accessory that should be of interest to everyone who owns or plans on owning the device. We always thought that generous 4.3-inch screen could do with some backside support, and indeed the new kickstand-equipped extended battery will provide just that. You'll also get a nice energy bump, as the new accessory is set to double the 1,230mAh capacity of the default juice pack. Deliveries are expected by Clove in February, meaning it shouldn't be too long before this official appendage makes its global debut — let's just hope other nations don't have to suffer as much wallet damage as the UK.
Share on Facebook
---
---
Tags: Accessory, extended battery, ExtendedBattery, Hd2, htc, htc hd2, HtcHd2, kickstand, peripheral, Peripherals, pre-order, uk, united kingdom, UnitedKingdom
Filed Under
Hardware
. Follow to this entry through the
RSS 2.0
feed.