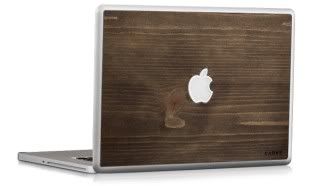 What would you do to make the Apple logo on your Macbook more of eye candy? The camouflaging aluminium is just too irritating and causes high sense of damage to the Macbook's appeal.. right? So its time to change it and get updated with the new skins that have been newly opened. KARVT the online store is where the unabashed Apple fans can find things of absolute sophistication. The service that this online store is providing is a 100% wooden skin to your very own Macbook. Now you can flaunt your Macbook with the new skin and the Apple logo being more boldly visible. KARVT has tried to incorporate all possible shades of cherry, bamboo, pine and walnut on offer and there's even an artists' section where some design flair is added to your timberrific purchase. The skins are attachable to all the latest Apple laptops with the price ranging from $35 to $50 with deliveries starting from 1st May.
Share on Facebook
---
---
Tags: Accessory, adhesive, Apple, handcrafted, karvt, laptop, laptop skin, LaptopSkin, macbook, macbook pro, macbook skin, MacbookPro, macbooks skins, MacbookSkin, MacbooksSkins, skin, wood, wooden, wooden macbook skin, wooden skin, WoodenMacbookSkin, WoodenSkin
Filed Under
Hardware
. Follow to this entry through the
RSS 2.0
feed.