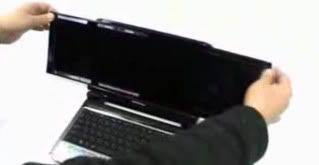 It's been a good while since we've seen an unboxing as thorough as this, even if the quality of the recording could be better. The chaps over at Wow Pow have sourced one of them dual-screen Kohjinsha DZ netbooks, which have had us intrigued since we saw them at CEATEC earlier this year. What we find from their cardboard adventuring is that the DZ comes with a LiteOn charger, a 6-cell 5,200mAh battery with endurance rated at four hours (though they've suggested that might be for only one screen), a 1Seg tuner that works only in Japan, and a multitouch trackpad. Powered by a 1.6GHz AMD Neo and 4 gigs of RAM, this machine definitely wants to escape the netbook tag, and its neat inclusion of an internal USB port intended for wireless connectivity dongles gives it another unorthodox selling point. Go beyond the break to see its de-boxing.
Share on Facebook
---
---
Tags: 1seg, amd, AMD Neo, AmdNeo, dual screen laptop, dual-screen, Dual-screenLaptop, dz, Kohjinsha, kohjinsha dz, KohjinshaDz, laptop, liteon, MultiTouch, neo, netbook, unboxing, unpacking, video
Filed Under
Hardware
. Follow to this entry through the
RSS 2.0
feed.