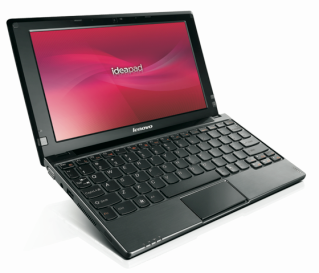 Now, what you see here is a Lenovo product. Yes never heard of it before because its information is secretly leaked out before the official announcement. We are so keen on giving you the information inspite of the updates of this S10 being so minimal is that if ever you have felt that the earlier models of Lenovo Notebooks were a bit too large then this product is definitely going to get you spinning. The S10-3 introduced at CES is an inch thick. It seems to have ben on that P90X routine That's making the rounds, as it measures just 0.6inches thick and the tips the scales at 2.4 pounds. The soft structure of this model has been renovated — the S10-3 comes with Intel's Atom N450 / N470 processors, RAM of upto 1 GB and your choice of 160/250/320GB hard drives. All this variety right from the measurements to the choice of Internal components at a flat price of $379. The S10-3 comes with a luscious chiclet keyboard that can take Lenovo to the extreme front. But the fial verdict is still to be declared until its release in mid – April and we see it for our selves.
Share on Facebook
---
---
Tags: Intel's Atom N450 / N470 processors, lenovo, lenovo ideapad s9, Lenovo Ideapad Slim, Lenovo Notebooks
Filed Under
Hardware
. Follow to this entry through the
RSS 2.0
feed.