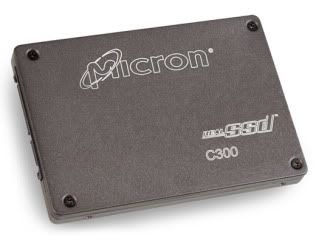 Seagate may have claimed the rights to the planet's first SATA 6Gbps hard drive, but it's Micron claiming the same feat in the SSD realm. The outfit's new RealSSD C300 is the first of its kind to natively comply with the wicked fast new specification, which will (at least in theory) provide read speeds of up to 355MB/sec and write speeds of up to 215MB/sec. It's also the first solid state drive to use ONFI 2.1 high-speed synchronous NAND, and while we're obviously eager to see what real-world benchmarks show, the demonstration vids after the break already have our mouths watering. As for availability? Tthe drive is currently sampling in 1.8- and 2.5-inch sizes, though consumers shouldn't expect to pick one up (in 128GB or 256GB sizes) until Q1 of next year. Best start saving, bud.
Share on Facebook
---
---
Tags: 1.8-inch, 128GB, 256gb, 6gbps, C300, fast, flash, flash memory, FlashMemory, micron, mlc, MLC NAND, MlcNand, nand, onfi 2.1, Onfi2.1, realssd, RealSSD C300, RealssdC300, sata, solid state drive, SolidStateDrive, speed, ssd, video
Filed Under
Device Drivers
,
Hardware
. Follow to this entry through the
RSS 2.0
feed.