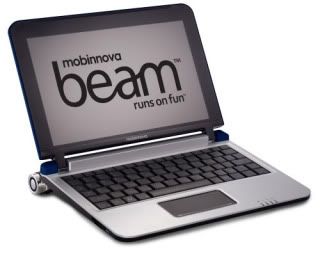 Mobinnova's élan, or the Beam as it's reportedly known as now, is a curious beast. It runs Windows CE, yet it's packing NVIDIA's Tegra graphics technology. Thus, it's not really a netbook, but calling it a smartbook might be short-changing it. Whatever the case, a recent interview with Mobinnova's CTO Mark Anderson has unearthed plans to launch the machine at CES 2010 with an undisclosed mobile carrier (or more, maybe) in America. We're also told that it should last between five and ten hours when playing back HD video, or up to 24 hours if it's just sitting around looping an iTunes playlist. Needless to say, our interest is definitely piqued — hit the read link for a gallery of shots, and keep an eye right here for the rest of the story direct from Vegas.
Share on Facebook
---
---
Tags: eam, elan, laptop, mobinnova, netbook, NVIDIA, nvidia tegra, NvidiaTegra, smartbook, Tegra
Filed Under
Hardware
. Follow to this entry through the
RSS 2.0
feed.