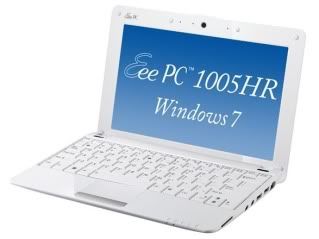 Ah, Windows 7 Starter — you're adding to the retail cost of netbooks, and for what? Lack of support for multiple monitors, DVD playback, or remote media streaming? Lack of Windows Media Center? Granted, these things aren't at the top of your list if you're rocking a netbook (and DVD playback won't be on your list at all) but we have principles, y'know? And that leads us to the next batch of Eee PCs that will fly the flag of the aforementioned OS. Both machines sport your standard Atom N280, 1GB memory, IEEE802.11b/g/n, Bluetooth, and customary 10.1-inch display. Of the two, the 1005HR-WS sports WXGA, a 250GB HDD, and will run you ¥49,800 (about $546). The 1005HE-WS, however, is WSVGA and comes in two capacities: 250GB HDD for ¥46,800 ($513) or 160GB HDD for ¥44,800 (about $490). In addition to that jive Starter edition of Windows, battery life for these guys has decreased to about 8.4 hours. Available in Japan come mid-November.
Share on Facebook
---
---
Tags: 1005HE-WS, 1005HR-WS, Asus, eee pc, Eee PC 1005HE-WS, Eee PC 1005HR-WS, EeePc, EeePc1005he-ws, EeePc1005hr-ws, laptop, netbook, notebook, seashell, ultraportable
Filed Under
Hardware
. Follow to this entry through the
RSS 2.0
feed.