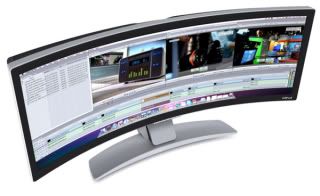 We first saw Ostendo's crazy CRVD monitor at CES 2008 with Alienware branding, and then again at Macworld 2009 with an NEC label, but it looks like those were just flirtations: the monster 2880 x 900 quad-DLP display has been quietly on sale directly from the mothership since late August. Ostendo tell us most of the units sold have been for defense simulation and training, but there are apparently some gamers out there hardcore enough to stomach the $6,499 price tag — including the crown prince of Dubai, who's purchased "multiple units." We're also told that multi-monitor CRVD applications are forthcoming, which sounds insane — and is even wilder on video. Check it after the break.
Share on Facebook
---
---
Tags: crvd, crvd display, CrvdDisplay, curved, curved display, curved monitor, CurvedDisplay, CurvedMonitor, Display, DLP, monitor, ostendo, ostendotech
Filed Under
Gadgets-Gizmos
,
Hardware
. Follow to this entry through the
RSS 2.0
feed.