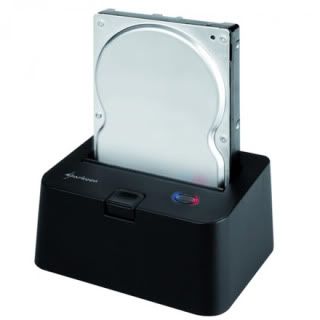 Sharkoon decided to dive into the blossoming SATA HDD Dock game just over a year ago, and now it's making the biggest leap ever for the cult classic-of-a-device. The latest and greatest SATA QuickPort now has USB 3.0 support, meaning that whatever SATA hard drive you slam down into it can be connected to your PC at USB 3.0 speeds. 'Course, you'll need a PC that's actually up to that very task, so it makes sense that the company is simultaneously launching a PCI expansion card that adds USB 3.0 capabilities to any desktop made in the last decade. Best of all, both of these are making their way out across the pond for €49.99 ($75) and €39.99 ($60), respectively, so you folks who make Malta your home can now brag about one more thing you've got going for you.
Share on Facebook
---
---
Tags: dock, hdd dock, HddDock, quickport, sata hdd dock, SataHddDock, Sharkoon, Storage, superspeed usb, SuperspeedUsb, usb 3.0, Usb3.0
Filed Under
Gadgets-Gizmos
,
Hardware
. Follow to this entry through the
RSS 2.0
feed.