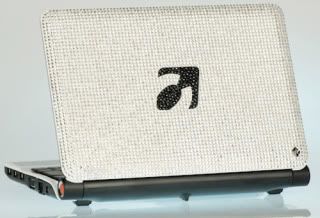 Taking a break from making headlines over infringement rights, Smartbook AG has found an entirely new way to get our attention. Introducing the Zenid GC Crystal, a "smartbook" that's, as Netbooknews.de points out, one of the most common Chinese ODM netbooks, the S40 — 10.2-inch WXGA LED screen, 1.6GHz Intel Atom N280, 2GB DDR2 RAM, WiFi, and so on. You can get a non-crystal version for 299 euros, but really, we know you're wanting to go ridiculously lavish here, and that's precisely where the Crystal variant doesn't disappoint. Completely encrusted in Swarovski crystals, the asking price jumps to 2,001 euros, or approximately $3,000 in currency from across the pond. We'd like to point and laugh more, but deep down, we know there's enough comically wealthy people out there to probably justify this.
Share on Facebook
---
---
Tags: atom, crystal, gc, n280, net book, netbook, smart book, smart book ag, smartbook, SmartBookAg, zenid, zenid gc, zenid gc crystal, zenide, ZenidGc, ZenidGcCrystal
Filed Under
Gadgets-Gizmos
,
Hardware
. Follow to this entry through the
RSS 2.0
feed.