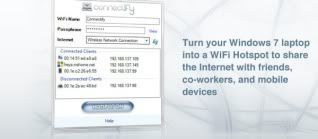 It wasn't all that long ago that Microsoft was talking up the Virtual WiFi feature developed by Microsoft Research and set for inclusion in Windows 7, but something got lost along the road to release day, and the functionality never officially made it into the OS. As you might expect with anything as big and complicated as an operating system though, some of that code did make it into the final release, and there was apparently enough of it for the folks at Nomadio to exploit into a full fledged feature. That's now become Connectify, a free application from the company that effectively turns any Windows 7 computer into a virtual WiFi hotspot — letting you, for instance, wirelessly tether a number of devices to your laptop at location where only an Ethernet jack is available, or even tether a number of laptops together at a coffee shop that chargers for WiFi. Intrigued?
Share on Facebook
---
---
Tags: hotspot, virtual wifi, virtual wifi hotspot, VirtualWifi, VirtualWifiHotspot, wifi hotspot, WifiHotspot, windows, windows 7, Windows7
Filed Under
Hardware
. Follow to this entry through the
RSS 2.0
feed.